Welcome to
Puppy Luver Bichon's
danielle@puppyluverbichons.com

AKC Limited Registration, Vet checked, first vaccines, parents & some grand parents on site.
Altho I live in the Upper Peninsula
I usually take the puppies down to my mom's
in Farwell, just outside of Clare that way you dont have so far to drive.
Or sometimes i go to Gaylord to meet with families to get there puppies. You are always welcome to pick up your puppy at my home so you can meet the parents and see where your puppy has been raised.
I have a retired female available, Jasmine. She is 5 years old. Spayed, teeth cleaned and up to date on vaccines. She has a very playful energetic personality and a bit needy. If you are in bed she will be with you, if you are sitting in your chair she will be on your lap. I have been reluctant to rehome her but she would be the perfect dog for an older person. This person would have a whole lot more time to devote to Jasmine than i do and i want her to have the best retirement possible.
Jasmine & scarlet are sold.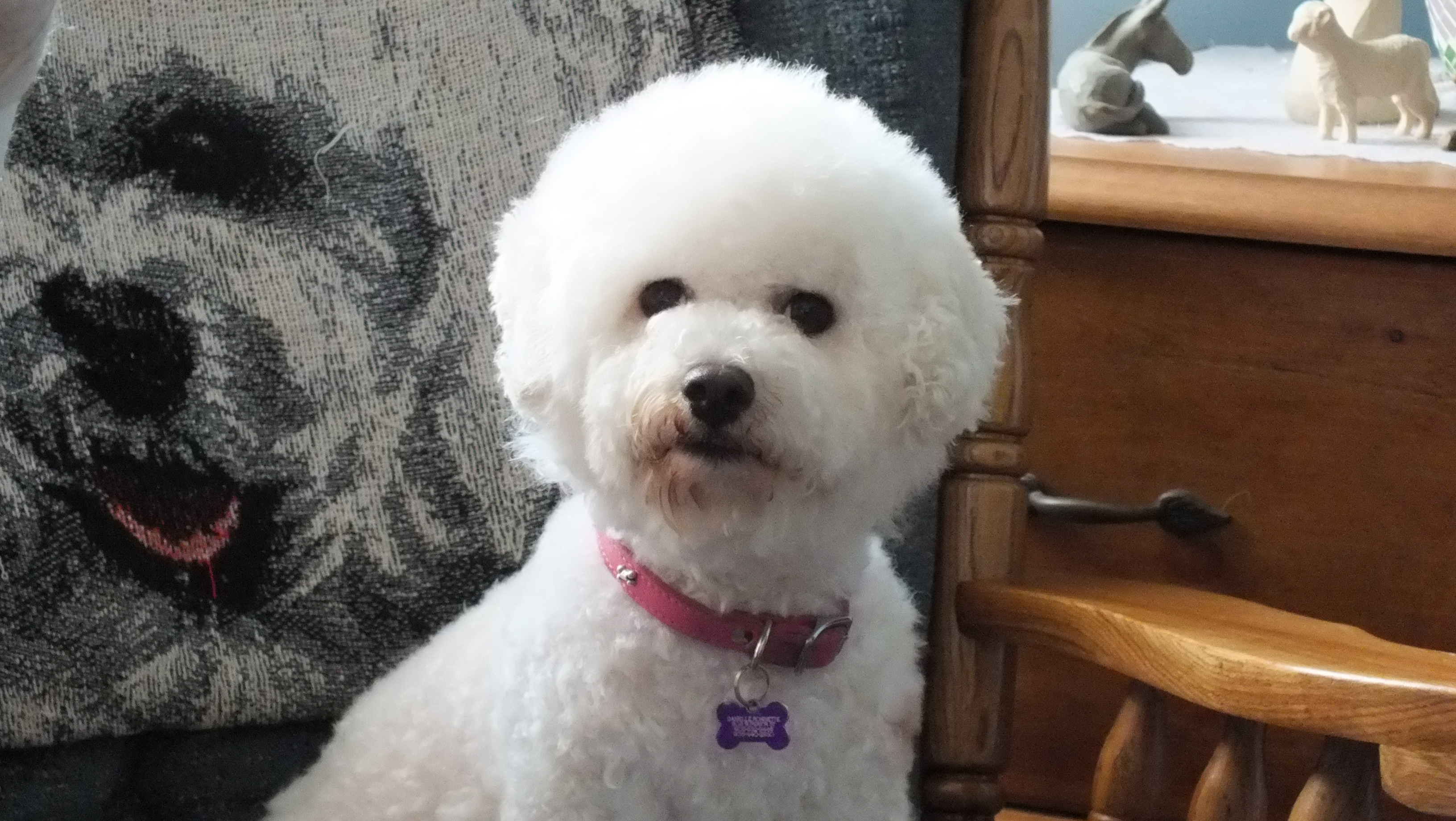 Jasmine $700
I will also be retiring a Shih Tzu that is 5 years old.
She will be totally vetted. Scarlet is a fun dog always doing something that will make you laugh. She is with her last litter right now but should be ready to go to her new home in a couple months.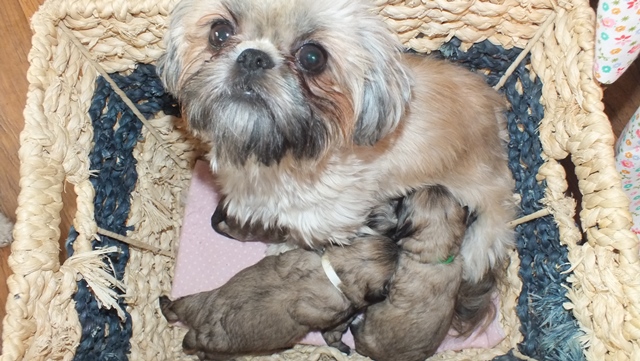 Scarlet $700
Please check out my Facebook page at

Puppy Luver Bichon's
You will find a ton of videos and pictures.
Bichon's $2000
Maltichon, Maltese/Bichon's mix $2000
Teddybear (Shihtzu/ Bichon mix) $2000
Deposit to hold your puppy is $400
Deposit is deducted from total price of puppy
no deposit is required until your puppy has been born.
We now offer a Veteran's and First Responders discount!!!!!!!!!
If you are interested in a puppy please submit an application. Once approved you will be put on the waiting list. No deposit is due until I am sure I have a puppy for you.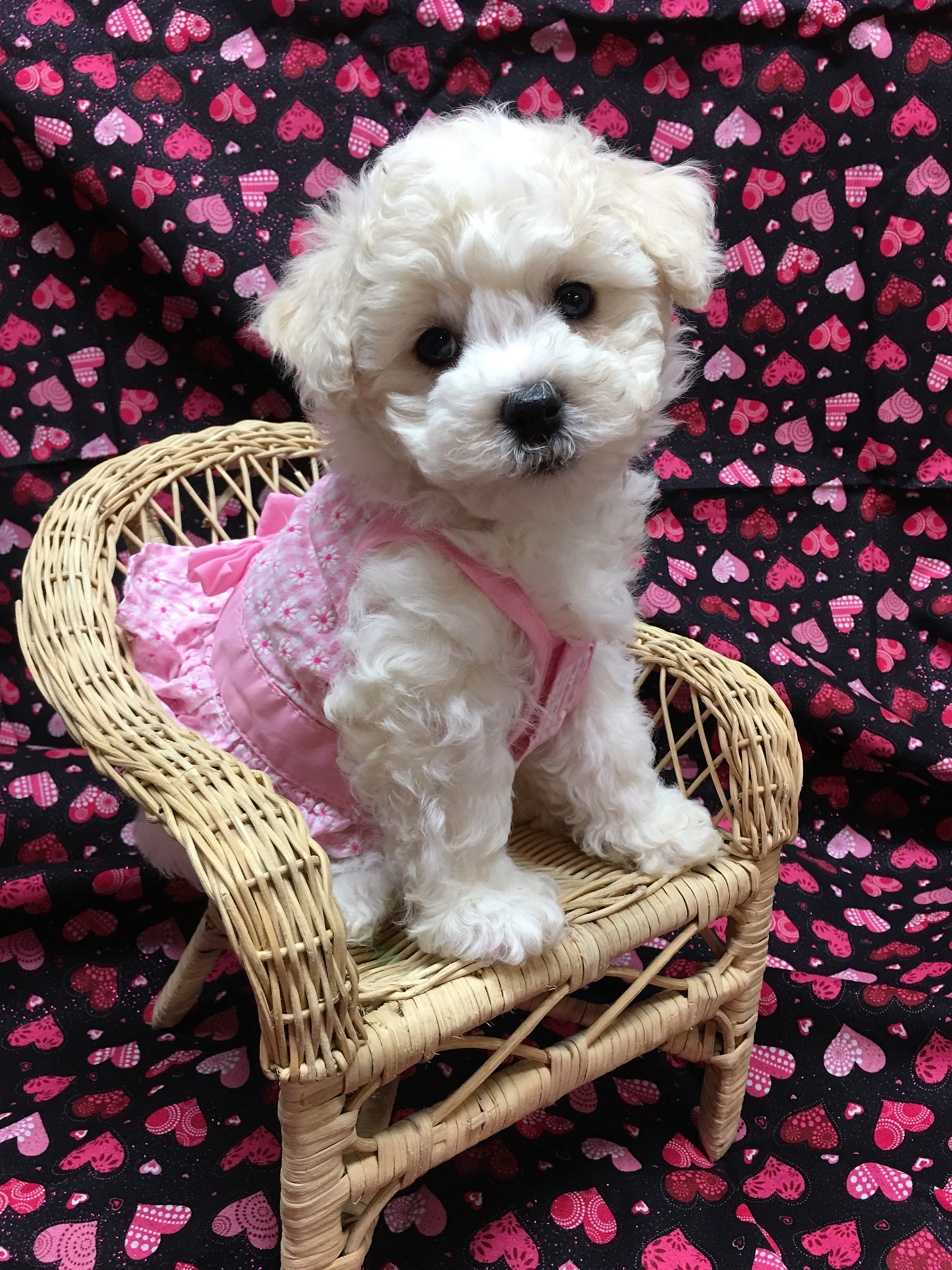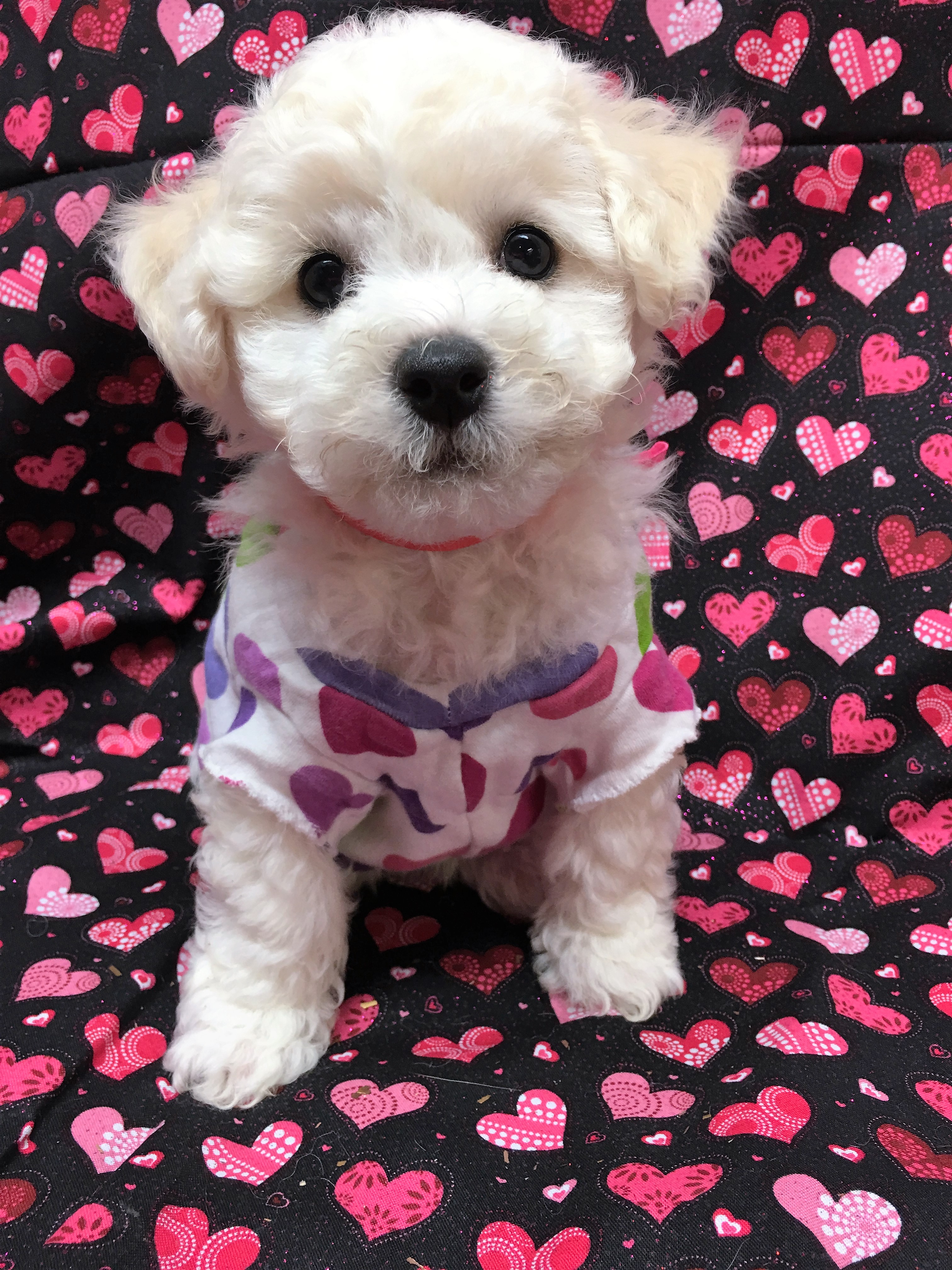 Bichon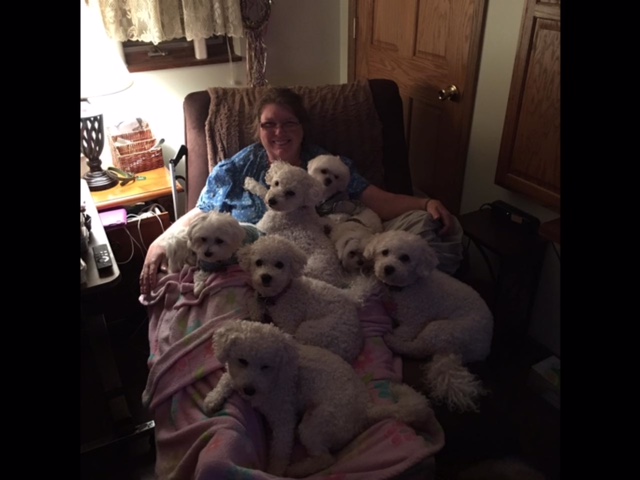 Me and my blanket of white dogs. I feel loved, I hope each of them know how much I love them. There are at least 4 Maltese & 4 Bichon's on my lap each night.

Please send me pictures of your Bichon that you got from me so I can feature him/her as "Bichon of the Week" here on my website.

Look at my Guestbook & see what people are saying about my puppies

Puppies are solid white with perfect markings. I breed for the smaller size Bichon's, they will weigh 10-15 pounds. Puppies are AKC registered.
I am a small breeder with the most awesome Bichon's in the Upper Peninsula of Michigan. My dogs are my pets first. I only breed them because I love to share them with other people that have a little something missing in their life. I have 3 females Hope, Harper & Jasmine and my amazing males Jesse and Jax. I also have Teddy-Bear and Stella, they are AKC Registered Maltese. Scarlet and Lucy are Shih Tzu's to breed the Teddy Bear puppies. If you are interested please send me an email or even if you have a question or just want to chat about this magnificent breed of dog.
All puppies are well socialized. Whelping pen is right in the living room and puppies are a part of the family from birth. They are handled frequently and socialized with a German Shepherd, several other Bichon's & five 5 pound Maltese. When you take your puppy home you he/she will not be afraid of other dogs, vacuum cleaners, people talking, TV, music or any other loud noise. When the pups are about 3-4 weeks old they are moved to the "play pen" where they have a lot more room to run & play. Also all my other dogs are then allowed to go in and visit & play with the puppies. The puppies are well handled by children from 3 on up, they are put in doll buggies, wagons & dump trucks.
I am very particular where my Bichon's go when I sell them. I am a stay at home Bichon Mom, I put an incredible amount of time with these puppies. Finding them just the perfect home is my ultimate goal. I will ask that you fill out an application just so I can see if it will be a good fit for you & your family to have one of my Bichon puppies. I will also ask you to sign a contract stating that if for some reason you can't afford or no longer want your Bichon that you can bring him back to me no questions asked. It is extremely important to me that none of my Bichon's end up in a shelter somewhere. A copy of my application & the contract is available on my website. Please read carefully. If you are still interested send me an email and I will email you a list of my references.